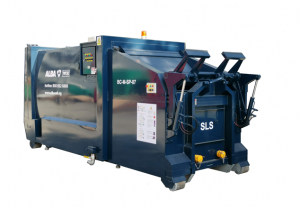 Introduction
SLS SMARTPAKTOR is an innovative waste handling system that is versatile, easy to use, clean and safe. SMARTPAKTOR is designed with a high compacting ratio so as to achieve a higher storage capacity, thus reducing the space needed in the bin center. This is useful for older bin centers that are normally smaller, which cannot accommodate modern and large equipment. SMARTPAKTOR compresses the waste, reducing its volume and stores the waste internally.
Design
Ergonomic design with tapered curved body for a firmer compaction and easy discharge of waste.
Inverter electrical system to better manage power consumption with better energy saving and lesser wear and tear on motor, hydraulic pump, cylinders and hoses
Elevated and raise ram platform to ensure that the cylinders are not submerged inside the waste water, thereby keeping the ram box clean and trouble free
Integrated front binlifter that is able to lift MGB 120 – 660L. The lifter is activated by 2 hand control to ensure safety
1 sided locking ratchet system that will improve productivity of the driver. The locks are designed hidden away from the waste during discharging.
Hydraulic hopper cover that provides a fully enclosed body that will keep waste in and pest out.
Smart Sensing that provides a maintenance free and reliable hall sensing effect.
Safety
Twin front view camera to capture all activities at the front of the compactor. It records and store images online for easy access. This will greatly reduce illegal dumping and negligence by users.
Smoke detector to detect any possible smoke / fire inside the compactor. There are 2 safety hatches to allow operators to insert water hose inside the compactor body to extinguish the fire.
Fire alarm that will sound out an alarm to alert operators, cleaners, residents near by in an event of fire.
Beacon light to alert users / operators and cleaners that the compactor / binlifter is in operation.
2 hands safety operation of the bin lifter to ensure that the operator's hands are not in the binlifter moving path
Maintenance
Double lip seal that serves as a better leakage protection and easy maintenance.
Waste water discharge compartment that can be easily opened to flush out waste that are accumulated in the water chamber.
Low oil cut off to prevent burn out of hydraulic pump
High temperature cut off to prevent overheating of oil that will damage the oil seals
TFT display panel that shows the status and weigh indication on site
Internet of Things (IOT)
SCADA management system that provides a seamless monitoring and transfer of data remotely from bin center to command center. This system can be access via PC, Notebook and Android phones.
Load cell weigh management system captures the actual weight of the waste inside the compactor. This information can be consolidated for seamless weight report generation.
On demand collection will increase the productivity and efficiency as only full compactors will be transported to the disposal facility. The use of weigh indicator is far more reliable and thus eliminates false alarm or inaccurate signals by other system.
Power pack with PLC control enables smart and easy programming which can also be done off site
Early fault detection enables and alert operator immediately in an event of breakdown such as hose burst , low oil situation.