SLS SMARTPAC WASTE COMPACTOR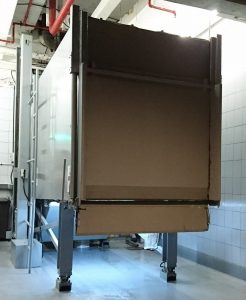 Introduction
SLS SMART-PAC is an innovative waste handling system that is versatile, easy to use, clean and safe. SMART-PAC is designed with a high compacting ratio so as to achieve a higher storage capacity, thus reducing the space needed in the bin center. This is useful for older bin centers that are normally smaller, which cannot accommodate modern and large equipment such as a mobile compactor. SMART-PAC compresses the waste, reducing its volume and discharges the waste effortlessly. SMART-PAC is build-in into the bin center, it compacts and stores the waste and discharges it into a Rear End Loader Refuse Truck.
Features
Fully enclosed body – keeps waste in & pest out
Elevated structure – better housekeeping, no more messy waste underneath
Saves in operating cost – sits permanently in the bin center, without having to move in and out of the bin center
Galvanized body – better corrosion control
Rear sullage tank – better waste water control
Fits refuse truck body – easy and cleaner during discharge
Bin lifters – suits 240 & 660L MGB
Weigh indicator – waste management system with report
Online monitoring – live 24/7 monitoring via PC or Android smartphone
Benefits
User friendly
Saves in operating cost
Keeps smell & waste within, keeps pest & rodents out
24/7 live online monitoring, to monitor usage and activities
Reduce operating cost by on-demand waste collection
General Specification
| | |
| --- | --- |
| Model | SLS Smartpac |
| Capacity | 8 cubic meter |
| Overall dimension | 4800 x 1900 x 4300 mm |
| Body material | Galvanized steel |
| Sullage tank | 350L |
| Hydraulic pressure | 150 bar |
| Electrical system | 415V, 3 phase, 50Hz |
| Control | Programmable Logic Control with Smart Relays |
| Online monitoring | SCADA system |
| Binlifter | Hi-lifter to suit 120, 240, 660L MGB |
Productivity Solutions Grant (PSG) For Smart-Compactor
NEA has recently launched the Productivity Solutions Grant for the environment services industry. The grant aims to encourage business and premise owners to adopt technologies that will increase operational efficiency and productivity as part of efforts to make the industry manpower lean.
Building owners and businesses to tap on a S$30 Million grant to offset the cost of adopting tools and technologies that mechanise cleaning and waste management tasks. Licence waste management company with existing contracts in Singapore as well as building and facility owners that are eligible for the grant may receive up to half of the qualifying costs of up to S$250,000 per company
Eligibility
Waste handling system integrated with compactor, fill-level sensors, weight monitoring and communication systems to enable on-demand waste collection using rear end loader refuse truck
Specification
Integrated with compactor, fill-level sensors, weight monitoring and communication systems
Minimum compaction ratio : 3
Minimum container volume : 4 m3
Grant cap : Up to S$60,000 per unit
Please click here for more information and to apply for the PSG grant : https://www.smeportal.sg/content/tech-depot/en/psg/specific-equipment/Smart-compactor-for-bin-centre.html